"A watched pot never boils, but a Cajun Rocket Pot will always boil faster!"
Benefits of using a Rocket Pot
HOTTER: A completely innovative and game-changing pot is on the market that will get hotter with our magic technology on the bottom.
FASTER: By creating an increased surface area with our magic bottom of the pot technology, the pot has no choice but to heat up faster.
BETTER: We can't make you an awesome cook, but we have heard from our customers and have experimented plenty of times ourselves, to know that everything tastes better when it is cooked more efficiently in a CRP!
Technology behind the Rocket Pot
We've trademarked our exclusive geeky magic technology that sets us apart from the cookware you have used your entire life. If we told you all our secrets…well…you know how that goes. We truly are not your "average" pot, but are indeed a magic pot that you will fall in love with from that moment you use it the very first time. Some people have been even been known to hear a chorus of singers behind them when making their first Cajun Rocket Pot meal.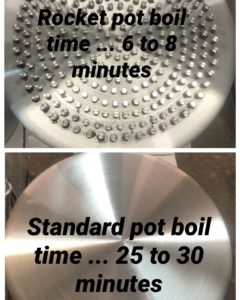 The bottom of the pot has our own cajun invented super-secret "studs (technology)." If you review all your primary education notes, you will recall those lessons on surface area and boiling. In a sense, what we have done is create about a 60% increase of the bottom of the surface area. When you apply energy to a larger surface area, it heats up faster, cuts down on the amount of energy used to make the pot boil and wow – boils your food completely and evenly in no time at all!
By accomplishing the hotter and faster cooking dilemma, you will be pleasantly surprised with the "better" results!