List Of Ingredients
Sack Of Crawfish 35 to 40 Lb.
Seafood Boiling Mix (Frog Bone)
Liquid Seafood Boil
Garlic Powder
Celery Salt
New Potatoes
Large Lemons
Mushrooms
Whole Garlic
Frozen Corn
---
Step 1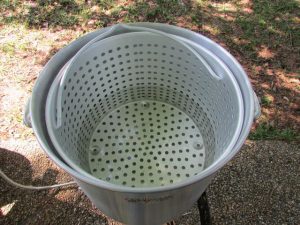 Insert the basket into the pot and fill the pot to the 40% point with water. Add the 4 Lb Bag of Frog Bone seasoning mix.
Squeeze 6 big lemons into the pot then toss in the rind.
Pour in 6 oz of Liquid Seafood Boil.
Add 4 oz of Garlic Powder.
Add 1 oz of Celery Salt.
Add the New Potatoes
Stir mix with a big paddle and then light the burner.
---
Step 2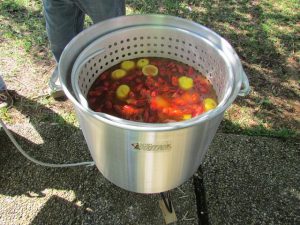 Once the water comes to a boil, allow it to boil for about 3 minutes to to precook the new potatoes.
Add the Sausage, Mushrooms & Garlic to the pot and stir well.
Pour one sack of Crawfish into the pot and stir well, then cover with the lid.
---
Step 3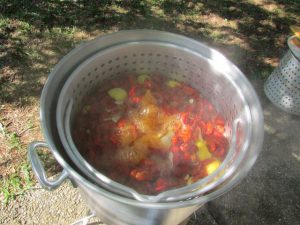 When the boil returns, allow it to boil for two more minutes.
Turn off the burner. Add about 10 mini frozen corn cobs and push them down to the bottom of the pot then pour in ice until the temperature drops to 150 degrees. A long turkey thermometer works best.
Allow the Crawfish to soak for 15 minutes.
Lift the basket out of the pot and allow it drain for a few minutes.
---
Step 4 – Now, pour it out on a big table and enjoy!